If you are new to our online Prescription Refill services, please choose Register for Prescription Refills. For new accounts you will need the following information:
Moss Point Zip Code: 39563

The last four digits of Moss Point\'s phone number: 3411

A previously filled prescription number to verify your identity.
None of your information is stored online, this is used for verification and to authenticate your patient information. The Rx number provided will not be refilled or altered.
If you need to register with another location, please choose your pharmacy from the menu above.
Thank you for your patience and understanding.
BURNHAM'S SODA FOUNTAIN
Burnham Drugs in Moss Point still has the traditional soda fountain shop, which serves breakfast and lunch in its nostalgic, family-friendly atmosphere. Drop in and relive the simpler days while enjoying a homemade milkshake or another one of our old- fashioned ice cream treats with family and friends.
The deli is open for take-out orders. For your convenience and safety, please view our menu and call your order in. If you are not feeling well and/or have a fever, call us when you arrive at the drug store, and we will deliver your order to you in the parking lot.
Deli Hours:
Monday - Friday: 8:30 am - 3:00 pm
Saturday:                    8:30 - 2:00 pm
Sunday:                                   Closed
View the Menu.
Click here to view our deli menu.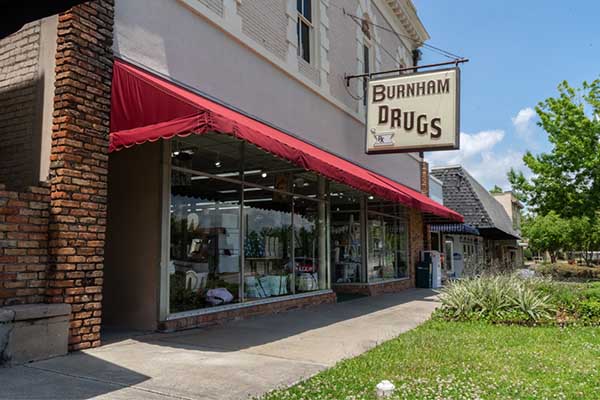 Moss Point
Tel: 228-475-3411
Fax: 228-471-1400
5001 Main Street
Moss Point, MS 39563
Store Hours
Monday - Friday:  8:30 am - 6:30 pm
Saturday: 8:30 am - 5:00 pm
Sunday: Closed
Pharmacists
John McKinney, R. Ph.
Pamila Ferguson, Pharm. D.
Bernadette Cuevas, R. Ph.
Wilda Parker, R. Ph.